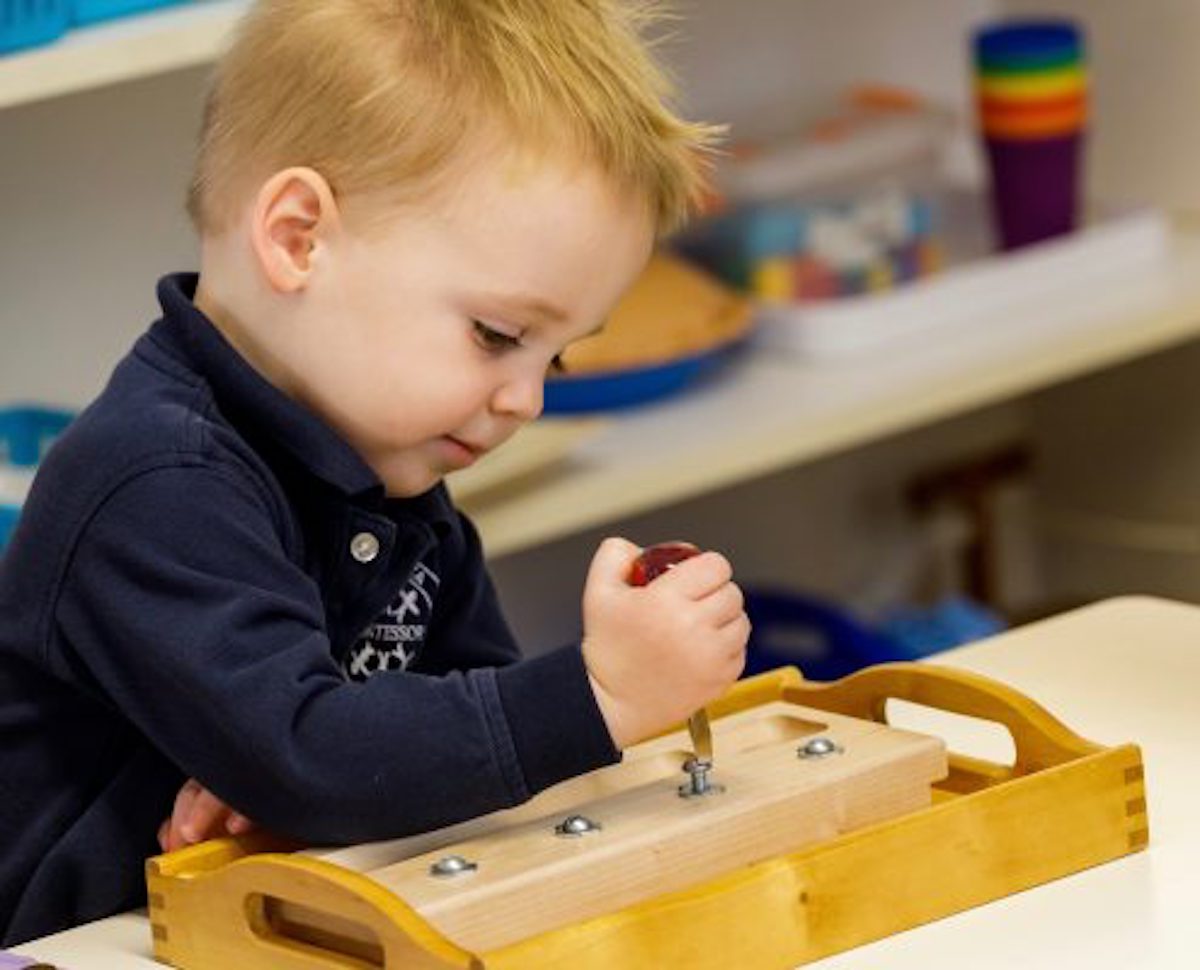 Alpharetta International Academy
For more than 35 years, AIA has been blessed with teachers, assistants, students, and administrators from many different countries and cultures. This combination of educational and cultural diversity has brought a special richness and value to our school.
Montessori education focuses on the individual needs and aptitudes of each child. Children progress at their own rate, as they are encouraged to choose appropriate lessons during uninterrupted blocks of work time. Students work with specialized materials developed by Maria Montessori, learning concepts from hands-on exploration rather than by group instruction. Various evaluation and testing tools highlight the success of a complete Montessori educational program.
At Alpharetta International Academy, mixed-age classrooms include Pre-Primary (18 month – 3 years), Primary (3 years – 6 years/Kindergarten), and Elementary (6–12 years/1st-6th Grade).
"Imagine a place where your child is always greeted warmly and made to feel welcome with a parent-communication experience that keeps you informed and confident that your child has fallen in love with learning."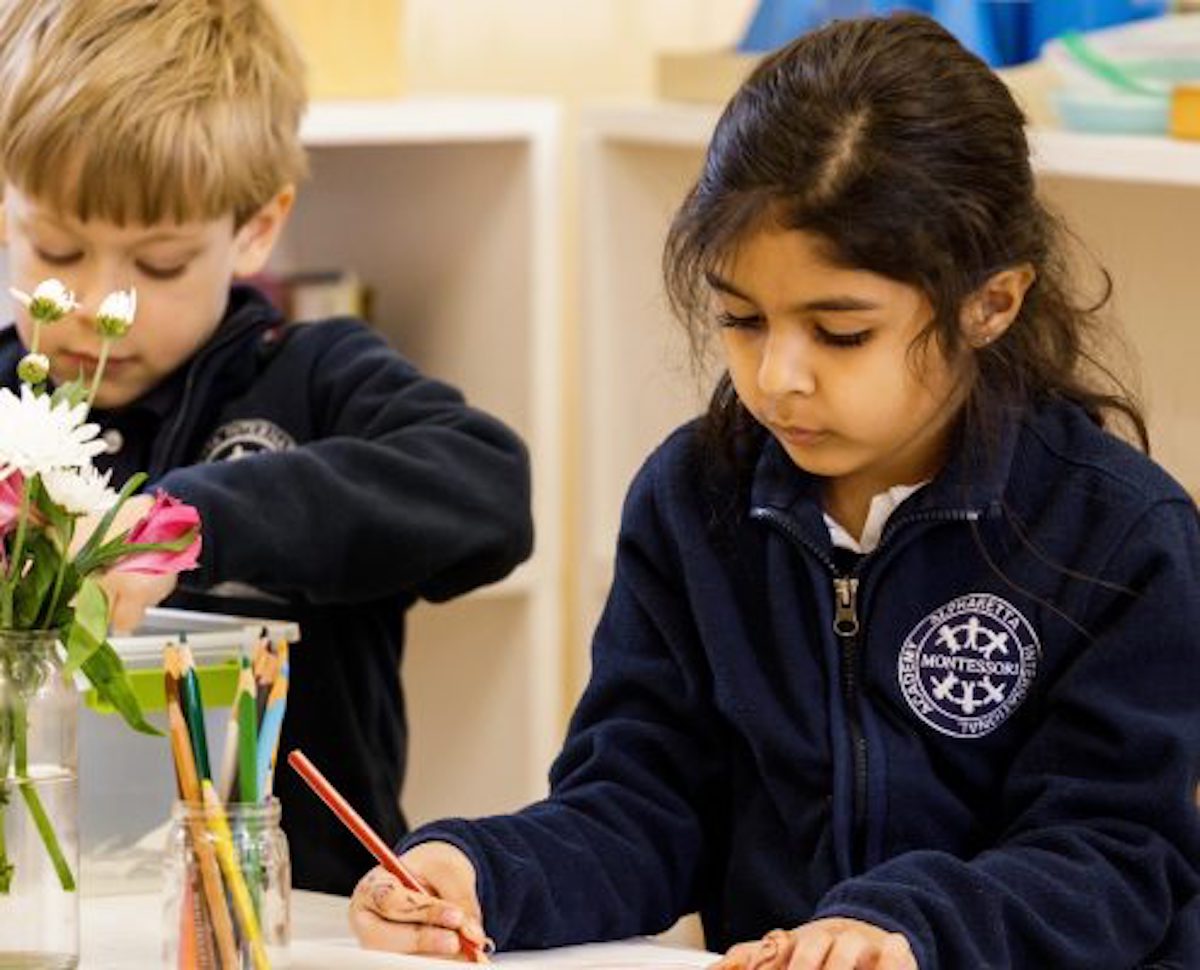 Our Mission
At Alpharetta International Academy we strive for excellence and are committed to providing a quality Montessori education for each child. Our goal is to nurture each child's innate desire to learn in a kind and supportive way.
We embrace DIVERSITY, welcome new IDEAS, and encourage CREATIVITY.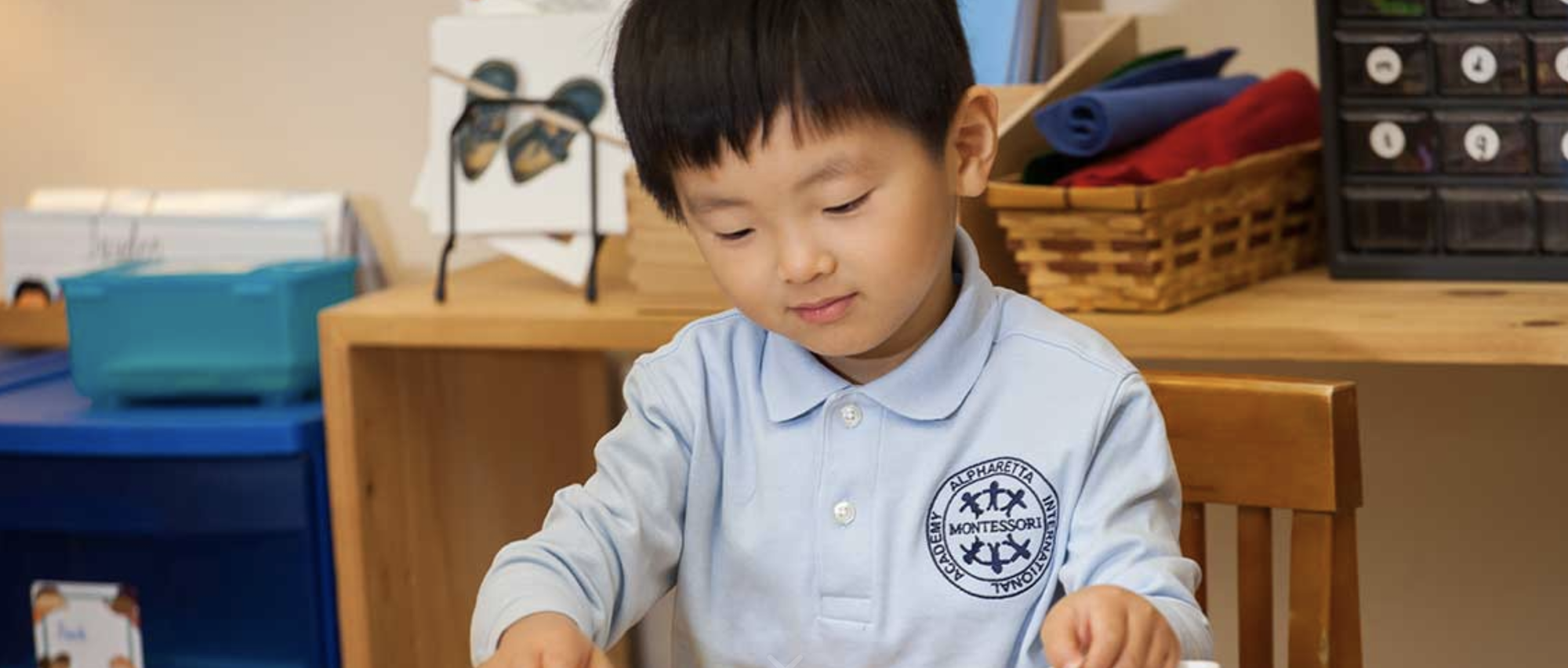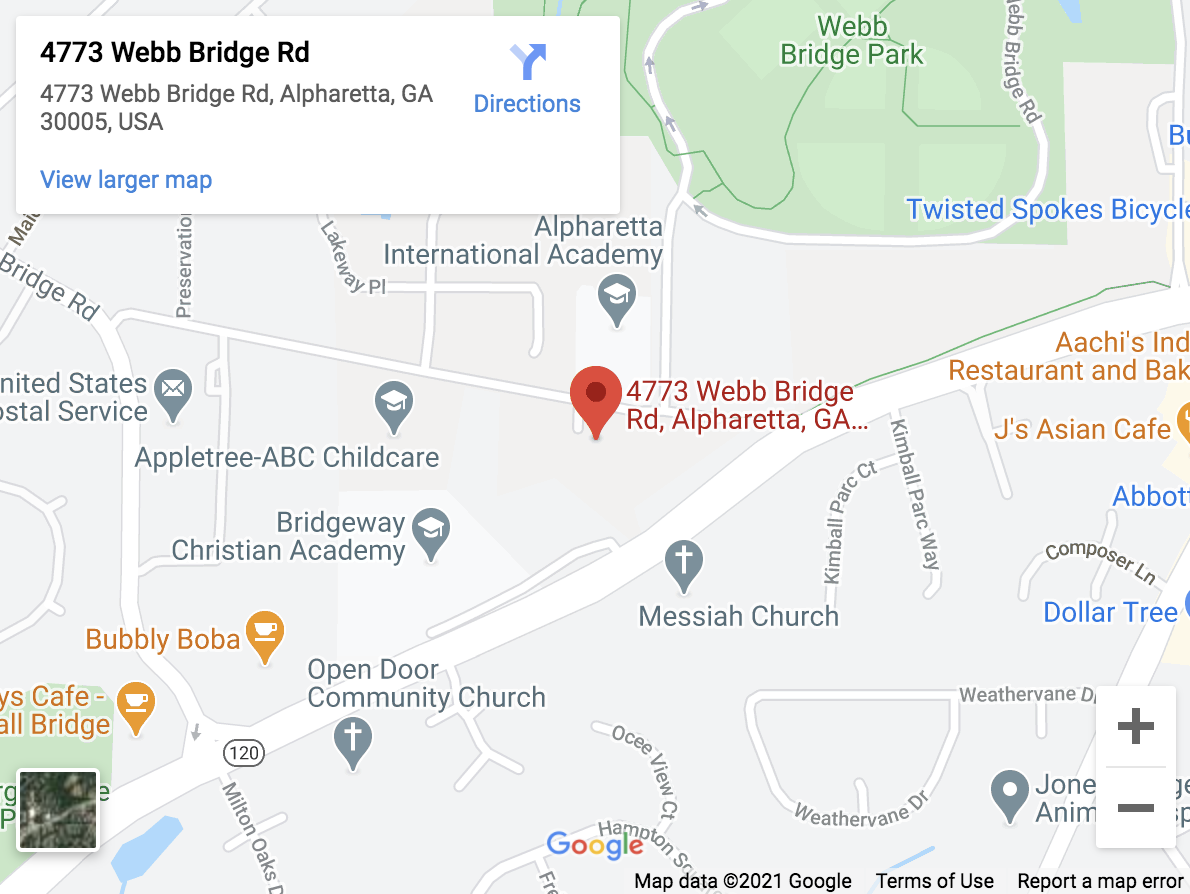 Address
A Little About Our Programs
The Montessori method of teaching is a child-centered educational approach that values the development of the whole child—physical, social, emotional, and cognitive. Developed by Maria Montessori over 100 years ago, this method is still thought to be the best learning environment for young children.
The prepared classroom encourages independence, freedom within limits, and a sense of order within the child through individual choice and self-paced learning with the teacher as the guide.
Our youngest students, 18 months through 3 years, use Practical Life and Sensorial lessons as a bridge from the home to develop concentration, fine and gross motor skills, language, and social skills.
Students in the Primary classrooms work in Practical Life, Sensorial, Language, Math, and Science, as well as Geography, Art, and Music.
Elementary Students learn to research and analyze, benefiting from low student/teacher ratio, individual instruction, and mastery before moving on in Language, Math, Science, Geography, Social Studies, Art, Music, and Foreign Language.
Pre-Primary (18 months – 3 years old)
The Pre-Primary toddler program focuses on the development of independence, language, fine and gross motor skills, and social interaction. In addition to working with the Montessori lessons, children go outside each day for 30 minutes, have snack, music, stories and circle time. The child does not have to be potty-trained.
Primary (3 years – Kindergarten)
The Montessori Primary program is an opportunity to nurture your child's individual development within the context of a group setting. He will emerge with social, emotional and academic skills while, more importantly, knowing how to thrive within a group.
The Montessori classroom is a prepared environment with over 300 individual lessons. Children receive individual and small group instruction, meeting each child's developmental needs so that each child learns at their individual pace.
Young children possess a once-in-a-lifetime ability to absorb information and concepts from their surroundings. The Primary classroom is designed to meet the needs of your child in this crucial phase of life, impacting the amount of knowledge and skill she will have at her command, but more importantly, her attitudes toward herself, her world, and learning.
Elementary (6 – 12 years old )
At the elementary level, Montessori students learn to think for themselves. They are encouraged to do their own research, analyze what they have found, and draw their own conclusions. Montessori teaches students to think, rather than memorize and forget. Students become fully engaged in the learning process, literally learning how to learn, discovering the process to be as natural as breathing!
The Elementary curriculum includes Language, Math, Science, Geography and Social Studies. Elementary Academic Enrichment classes include Art, Music, Physical Education and Foreign Language.
Students don't sit at a desk all day long. They often collaborate, either helping one another master information or working together on group projects. Dr. Montessori believed children are born curious, creative, and intelligent. In designing the elementary program, she wanted to nurture their spontaneous curiosity and inspire a sense of wonder in their spirit.
Hear it from our parents!
"My 2 children attend this school and have had a wonderful experience here. The small class sizes and individualized attention has helped them to flourish as students and as human beings. We had them in public school for a couple of years but brought them both back here to complete elementary school and it has been the best decision we could have made for them. Every teacher and staff member here is 100% focused on giving each child the best education in a loving, community environment. It has truly become a second family to us."

Patricia M.
Parent
"There is no school around that compares to AIA! Our two children are learning invaluable lessons in everything from academics to integrity and social responsibility, and what's more, they're loving every second of it! The Montessori method is beautifully adhered to, which allows for an intense and independent love of learning to be fostered. We couldn't imagine entrusting any other school with preparing our children for their futures. AIA is truly our children's home away from home and we happily plan on attending from 18 months all the way through 5th grade."

Phebe C.
Parent
Come see Our School for yourself! Fill out the form above to book a school tour or learn more!